Moulis are best known for the sophisticated dishes they can help prepare. However, they are almost as popular with parents who are responsible for preparing fresh, home cooked food for their babies and young children.
While a regular mouli or hand operated food processor can work equally well when it comes to preparing food for those just starting out on their life long culinary journey (AKA young children), there are food mills that have been designed with the specific purpose of creating baby food.
There are a fair few baby food mills on the market and although they tend to be cheaper in price than the mid-level moulis, they do vary in price and quality somewhat. For that reason we've decided to review some of the best (and worst) baby food mills on the market to help you make the right choice to match your needs.  Lets get things started with this colourful option from Munchkin:
Munchkin Baby Food Grinder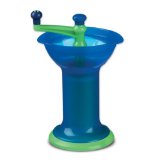 This is a colourful baby food mill from the brand Munchkin. The colours are a nice idea which have been presumably chosen to attract young children, although we're not sure that is such a good idea considering the purpose of this tool!
The idea with this baby grinder is that it can be taken with you and used at meal times to quickly grind up food to be served fresh. We must admit this is a great idea. Especially for times when you are caught short without and pre-mashed baby food to hand and need to improvise. If you are at a  restaurant that doesn't have a kids menu, simply whip out your Munchkin kids grinder and transform some baby-friendly dishes like pasta and tomato sauce into a sumptuous purée prepared fresh, right before your baby's eyes.
Once the hard work has been done it can be tucked back inside your travel bag thanks to its small dimensions and light weight.  When you get back home this mini mouli can be easily cleaned in the top rack of the dishwasher where it is perfectly safe.
When you consider the low price of this product and the amount of use you will get from it, there is no good reason not to have one in your arsenal of baby products. To check out the latest pricing and pick one up today, head over to our baby food grinders shopping list now.
OXO Tot Baby Food Ricer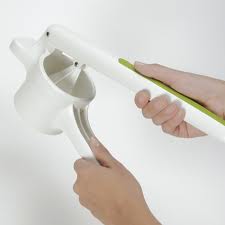 Unlike the aforementioned Munchkin grinder, the OXO Tot baby food ricer looks more like a regular potato ricer. It has no fancy colours or quirky designed to appeal to children but consider it will be adults who will be using this baby mill, that isn't a bad thing.
However, despite being reduced in price by nearly 50%, this baby food ricer from OXO has failed to earn many positive customer reviews on amazon.co.uk. Although it is worth pointing out that is has only garnered two customer reviews, which could explain its one star rating.
The main complaints about this potato ricer-style product is that it is too big to take out with you, unlike the Munchkin and also takes up loads of cupboard space due to its massive size. However its worst offence, according to those who bought is that it is rubbish at milling the food as the handles are too weak. This means it is only good for food that is already soft, for which it would be easier to mash with a fork, instead of this oversized piece of hand powered kitchen equipment.
If you can get this OXO baby food ricer to work, be warned that is does not make very fine food that a baby that is new to eating would require. Instead the size of the food is larger and is better suited to those more experienced at eating solids.
Despite its great price, it is hard to recommend this product. If you are leaning towards a more adult looking baby food mill, this stainless steel baby mouli might be more up your street: check out our review of it here now.
Baby Dan Food Mill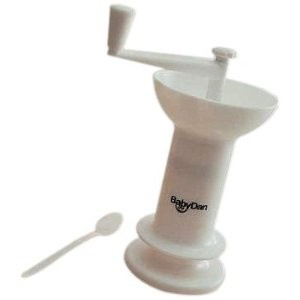 The Baby Dan Food Mill is more like the Munchkin one in terms of design, although it is lacking the bright primary colours, making it more suitable for those who prepare their kitchen items more discrete and sedate. When your house is packed to the gills with baby products and toys, having something that looks like a grown up's appliance is never a bad thing in our opinion.
Simply drop the food in the top of the Baby Dan Food Mill and then start turning the handle to transform lovingly created dishes into slush and mush. This one even comes with a specially designed serving spoon so that your little one can be easily fed when you are on the go and away from home. The puréed food can be served straight from the four ounce capacity cup making one less thing you have to take with you on your travels.
Like the Munchkin grinder, this one is clever enough to separate any seeds and pips that are passed through the mill, preventing the chances of your offspring from choking on any fruit waste. It is also perfectly safe in the dishwasher. Another nice touch is that it comes with a carry bag and has been designed not to chip, crack or break when dropped. You can also sterilise it keep your child germ free.
If you want to find out more about this baby food mill from Baby Dan, go to our best sellers list this instance.
KidCo BabySteps Deluxe Food Mill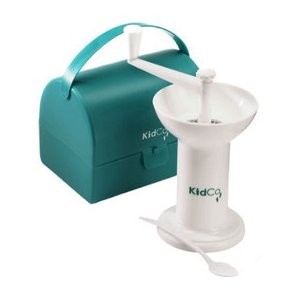 These are starting to look a bit familiar now. After the striking colours of the Munchkin, the trend seems to be for plain white. This one is very similar to the Baby Dan food mill even down to the included spoon, bag and the dimensions of the cup area which is also four ounces.
It does have some nice touches which seem to be unique and stand it apart from other products on the market. These include:
Rubberised non-slip feet to prevent it from sliding about on the table when doing a grind.

Non-slip grip on the handle to stop your hands slipping when dealing with mushy food.
A snap-on lid to keep any remaining food stuff out of contact with the contents of your baby bag on the way home.
A metal blade as opposed to a plastic one for food that is harder to grind.
As you can see this is a bit better than some of the other baby moulis listed on this page, at least when going by the product specification. It is a bit more expensive than the others but is still well under £20.
The review of the KidCo BabySteps Deluxe Food Mill are mixed so proceed with caution. If you want to find out more about this one, click here now.
Green Sprouts Eco-friendly Baby Food Mill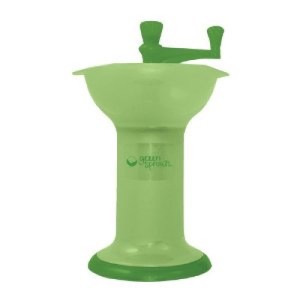 It looks like we might've saved the best until list on this list of baby hand powered food mills. If you read the positive customer reviews this item has garnered on amazon.co.uk you will be itching to get your credit card out and snap this one up ASAP.
While it costs a few quid more than some of the others here we think it is still a great deal. Perhaps because it is made by Green Sprouts, a company with a commitment to values that aim to "protect our earth and our children", it actually works as it was intended to.
Green fans will be pleased to note it is eco friends as well as being baby friendly and BPA and PVC free.
The Green Sprouts Eco-friendly Baby Food Mill is very easy to clean despite having a similar appearance to the previously mentioned KidCo baby mill. This one also contains more stainless steel parts inside than its rivals which makes it more efficient and effective when it comes to blending food, which is of course its main purpose in life.
This one is great for those travelling who want be able to give their baby a portion of whatever they are eating in a quick and convenient manner.
If you don't like the idea of splashing out on an expensive electric baby food blender or just want something you can easily take on the road with you, then this low cost alternative looks like the perfect choice.
To check the latest pricing of the Green Sprouts Eco-friendly Baby Food Mill and see if it is available to buy click here now.